Baz Luhrmann (you know that marvellous man who brought us The Great Gatsby!) is still busy searching for a singer/dancer to star in his musical production of 'Strictly Ballroom' (a stage adaption of the 1992 film of the same name that Baz wrote and directed!). We hear that the lead role of 'Scott' has been filled, but for you talented ladies out there the starring role of 'Fran' is still up for grabs! See below for more details.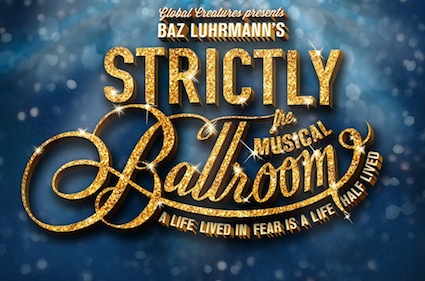 "Strictly Ballroom The Musical will tango, sashay and bogo pogo its way onto the Sydney Lyric stage from 25 March 2014, thanks to the original creative team behind the classic 1992 film – director and co-writer Baz Luhrmann, set and costume designer Catherine Martin, choreographer John "Cha Cha" O'Connell and co-writer Craig Pearce.
Although auditions have been held for some time Baz Luhrmann is still looking for an actress to play the lead female role 'Fran'."
Audition Details
DanceInforma had this info:
General auditions will be held in Melbourne on Saturday 21 September and in Sydney on Sunday 22 September. Just show up on the day ready for action.
"Fran" is a girl in her early 20's who blossoms from the ugly, awkward duckling of the dance studio into a beautiful and passionate dancer (and Scott's dance partner) as they display their breathtaking, rule-breaking new dance routine in the finale of the show. As a character who undergoes a real transformation, Fran joins Scott to become dance partners, and they ultimately fall in love and stand up for what they believe in. She is truthful, can be very direct and is strong and proud.
Anyone can come and audition but certain skills are required. Auditionees should be a strong actor/singer with dance training. Ballroom training is definitely a bonus, but not essential. No vocal range is specified.
Auditionees should bring sheet music for a song of their choice in the right key, but ideally people auditioning should prepare the Cyndi Lauper song "Time After Time" or another 80's ballad.
Just show up the day of and register between 9 and 10 a.m. Auditionees must bring a headshot and full resume of their training in singing, acting and dance and any performance work they have done. If they are called back to dance on the day they will need to wear characters shoes. They need to be prepared to wait around.
Any successful auditionees will be required to attend a professional audition call – in Sydney on Monday the 23rd and in Melbourne on Thursday the 26th. Full details will be supplied to them at the end of their audition on the Saturday or Sunday.
The Melbourne general audition will be held on Saturday 21 September at Revolt Theatre, located at 12 Elizabeth Street in Kensington. The Sydney general audition will be on Sunday 22 September at Bangarra Dance Theatre, located at Pier 4 at 15 Hickson Road in Walsh Bay. For more information, visit www.lynneruthvencasting.com.'